Gillian Anderson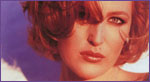 Gillian Anderson's first big break came when she was cast in The X-Files in September of 1993. For her starring role as Agent Dana Scully, she has received an Emmy Award, a Golden Globe Award and two SAG Awards for Best Actress in a Drama Series.
Earlier, Gillian gained recognition for her off-Broadway performance in Alan Ayckborne's Absent Friends at the Manhattan Theater Club, for which she won a Theater World Award. She also appeared in Christopher Hampton's The Philanthropist at the Long Wharf Theater, and more recently, took part in Eve Ensler's The Vagina Monologues.
Her love of theater began in high school, when she participated in community theater productions. Gillian studied first with the National Theater of Great Britain at Cornell University in Ithaca, NY, and then at the Goodman Theater School at Chicago's DePaul University, where she obtained her BFA degree.
Her feature film credits include House of Mirth, The X-Files, Playing By Heart, The Mighty and Hellcab. She also did voice-over work on the film Princess Mononoke and the television show The Simpsons.
Gillian succeeded in writing and directing an episode of The X-Files in the seventh season's "all things."

(Biography courtesy of The X-Files Official Site.)
Gillian Links: GAWS (Gillian Anderson Web Site)