David Duchovny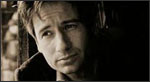 A Golden Globe and American Comedy Award winner, and a two-time nominee for the Emmy Award for Best Actor in a Drama Series, David Duchovny once seemed an unlikely candidate to become an actor. A native New Yorker, David received a graduate degree in English literature from Yale University to prepare for a career as a teacher. While at Yale, he began commuting to New York to study acting and was soon appearing in off-Broadway plays. In 1987, in the midst of his doctoral studies, he left Yale to pursue acting full time.
Before The X-Files, David was probably best known for his memorable portrayal of Dennis/Denise, the transvestite detective in the television series Twin Peaks, and for his performance opposite Mimi Rogers in the acclaimed feature film The Rapture. His other feature film credits include Return to Me, The X-Files, Playing God, Chaplin, Beethoven, Don't Tell Mom the Babysitter's Dead, Kalifornia, and the critically acclaimed Julia Has Two Lovers. David was also the central character of Showtime's The Red Shoe Diaries.
For television he has made three guest appearances playing himself on HBO's The Larry Sanders Show, which garnered him an American Comedy Award. He also did voice-over work on The Simpsons, Dr. Katz, and Duckman, and has twice hosted Saturday Night Live.
David has been involved in writing and creating stories for many episodes of The X-Files, and he wrote and directed two episodes: "The Unnatural" and "Hollywood A.D."

(Biography courtesy of The X-Files Official Site.)
David Links: Duchovny.net :: Chimerical Publications :: The Best of David Duchovny